46/70 - Extra Coarse
46/70 is extra coarse. Use it when you have heavily pitted stones or agates with a crust on them.
Use one tablespoon per pound of rock and add a tablespoon per pound each week until the worst of the rough is gone.



60/90 - Coarse


This is coarse grit, the most popular first grit for tumbling.
Use one tablespoon per pound of rock and add a small amount every couple of weeks until stones feel perfect.










150/220 Medium

150/220 is the medium stage and run after the 60/90. The coarse and extra coarse grit shapes the stones and gets rid of the rough. The medium grit starts preparing the stones to accept polish.


Use one tablespoon per pound of rock and run for about a week.



500 Fine / Pre-polish


Grit size 500 is for the final silicone carbide stage before you move to the prepolish stage.
Use one and one half tablespoon per pound of rock.

Now you're ready for prepolish! For the most affordable prepolish, try our FR SUPER Economy polish.






80 - COARSE

You'll have more success using straight grits in your lap than a mixed grit as in tumbling. Size 80 is for the coarse stage.













220 - MEDIUM

For the second stage in lapping, use size 220, our medium grit



To be a good tumbler, you need to do lots of research and pay attention to each of your tumbles. There are a few books available and there is also a wealth of information on the internet. My basic instructions will get you started. You also need to always take notes because you think you'll remember everything, but guess what ... you won't. Take notes. To start your internet research, check out this super site: http://silgro.com/RockTumbling.htm

Single Use Packets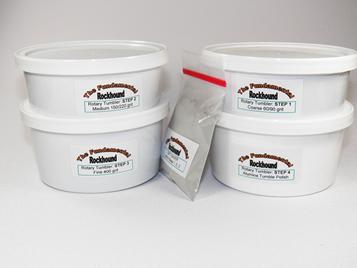 Polish up to 10 Lbs Rock
Prepackaged 4-step Grit Kits

Single use is four ounces each of coarse, medium, and fine grit and two ounces of aluminum oxide tumble polish.
Up to 10 lb size is one pound of each grit plus a half pound of polish (re-sealable tubs)
Up to 50 lb size is five pounds of each grit and two and a half pounds of polish (heavy duty bags)

Instructions are included. All kits also include Grit Saver, which is a thickening agent for the slurry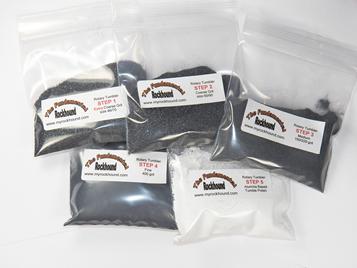 Single Use Five Step Kit
Five Step Grit Kits

These are packaged and include the same items as above with the addition of an extra coarse 46/70 step.




1200 Grit
A friend of mine who was using 600 grit on his faceting machine to make cabs tried this and was amazed at how 'fast' it was. He said he will always use 1200 before going to polish from now on.

2oz - $6.00, 4 oz - $10.95

Website powered by Network Solutions®